Opinion | JMU purposefully mislead students at the behest of advertisers – The Breeze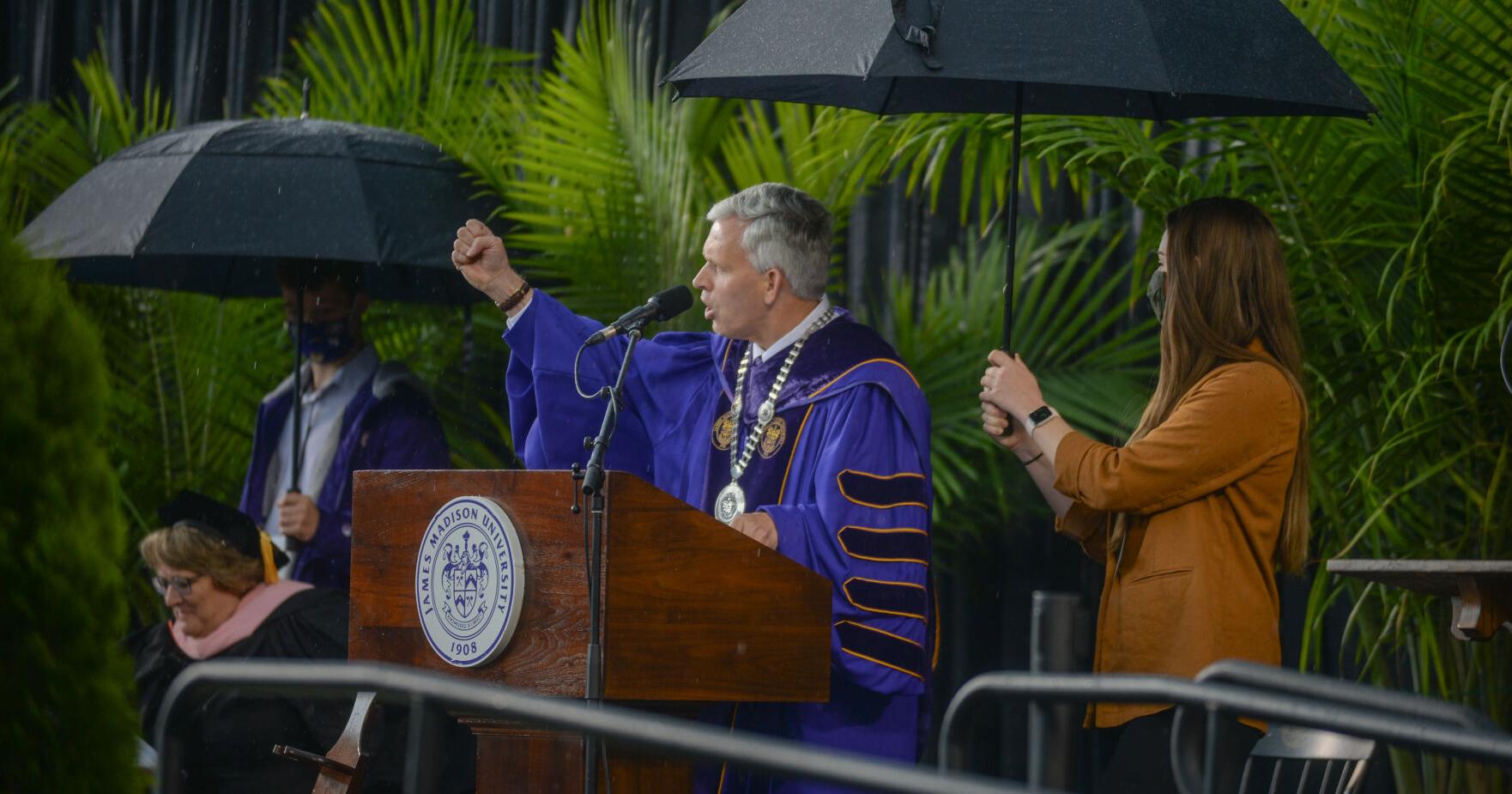 Cloudy skies. A stray shower or thunderstorm is possible. High near 75F. Winds NW at 10 to 20 mph..
Clear skies. Low 36F. Winds WNW at 5 to 10 mph.
Updated: April 14, 2022 @ 1:20 pm
JMU seniors felt mislead when JMU communication seemed to indicate that the Grad Fair would be the only opportunity to obtain graduation regalia and tickets.
JMU seniors felt mislead when JMU communication seemed to indicate that the Grad Fair would be the only opportunity to obtain graduation regalia and tickets.
Editor's Note: The previous online headline of this story did not accurately represent this article. The headline has been updated to better reflect the article.
The afternoon sun felt uncharacteristically harsh as students, weighed down by heavy backpacks, waited in an hour-long line that wrapped around Bridgeforth Stadium. People seemed tired. Some were frustrated, others bored, but there was an understanding among the crowd that they needed to tough it out if they wanted to walk across the stage at graduation. Caps and gowns are required and the graduation fair, according to JMU information at the time, seemed like the only place students would be able to purchase them.
"It was hot out," senior Zae Moore said. "There was no place to sit, so I really would have preferred to have known if there was another way to do it because I would have not otherwise. I also personally have a hip injury so standing in line for that long was really not great."
JMU revealed very little information about purchasing graduation tickets and regalia at first. All that was explained on JMU's website, at the time of the Grad Fair which was held March 22-23, was that the "first" opportunity to buy caps and gowns would be the graduation fair. The website has since been updated. While this did imply that there would be more opportunities in the future, it didn't specify how many or in what form. It was completely possible that a student wouldn't be able to make a future event and would end up suffering the consequences. Nowhere was it clearly mentioned that after the graduation fair, students would be able to order what they needed from the bookstore. Had students known this was the case, the graduation fair would've had far less of a turnout.
"No one that I knew, including myself, knew anything about how else we'd be able to get it so a lot of us went, thinking that was gonna be the only opportunity," said Moore. "It seemed like everyone who was there didn't know there was another option either. They were just there to try to get it over with and leave."
JMU's vague directions on how to buy caps and gowns may be the result of a financial incentive. Students who attended the graduation fair may have noticed several booths set up, which offered a variety of goods and services, including class rings and graduation photos. Many of those vendors are third party retailers — like Commemorative Bands, which makes class rings — that partnered with JMU to offer their services. Perhaps, in exchange for easy access, JMU provided a large consumer base for companies to make money. This, in itself, is perfectly reasonable as it's a mutually beneficial relationship that doesn't inherently harm students.
What's questionable is how JMU, through vague announcements and poor communication, seems to have misled students into attending the graduation fair so these companies could advertise their products.
According to Forbes, consumers on average spend more money when shopping in person than online. This may be because in person shopping increases consumer exposure to a variety of goods and consumers have less of an opportunity to compare prices.
Every student needs a cap and gown, but not necessarily a ring or photo. Rather than considering what was best for students, JMU dangled seniors' walk across the stage just out of reach to serve third-party commercial interests.
"I think that things that tend to benefit them, [JMU] is very clear about," Moore said. "I looked on their website for … graduation info and I looked at all the emails, which I never do … because I just didn't want to stand out for hours and there was no information on that at all."
The event seemed like a waste of time for students and was especially inconvenient at a point in the semester when exams and term papers are often due. JMU should be prioritizing students' well-being, not their corporate partners' bottom lines. For an institution that claims to promote integrity and student focus, its actual demonstration of those ideals has been beyond lackluster. If JMU wants to follow its own values, it should engage in clear communication with students, even if that means inconveniencing its corporate partners.
Contact senior international affairs major Mia Hazeldine-Ross at hazeldmg@dukes.jmu.edu. For more editorials regarding the JMU and Harrisonburg communities, follow the opinion desk on Instagram and Twitter @Breeze_Opinion.
CORRECTION: April 14, [time] — A previous version of this article misspelled Zae Moore's name. The article has been updated to reflect those changes.
Success! An email has been sent to with a link to confirm list signup.
Error! There was an error processing your request.
Featuring the latest in news, opinion, culture and sports from The Breeze.
Want to praise someone or get something off your chest? Darts and Pats is the place to do it.