Michael Shvo, el nuevo dueño de la Pirámide Transamerica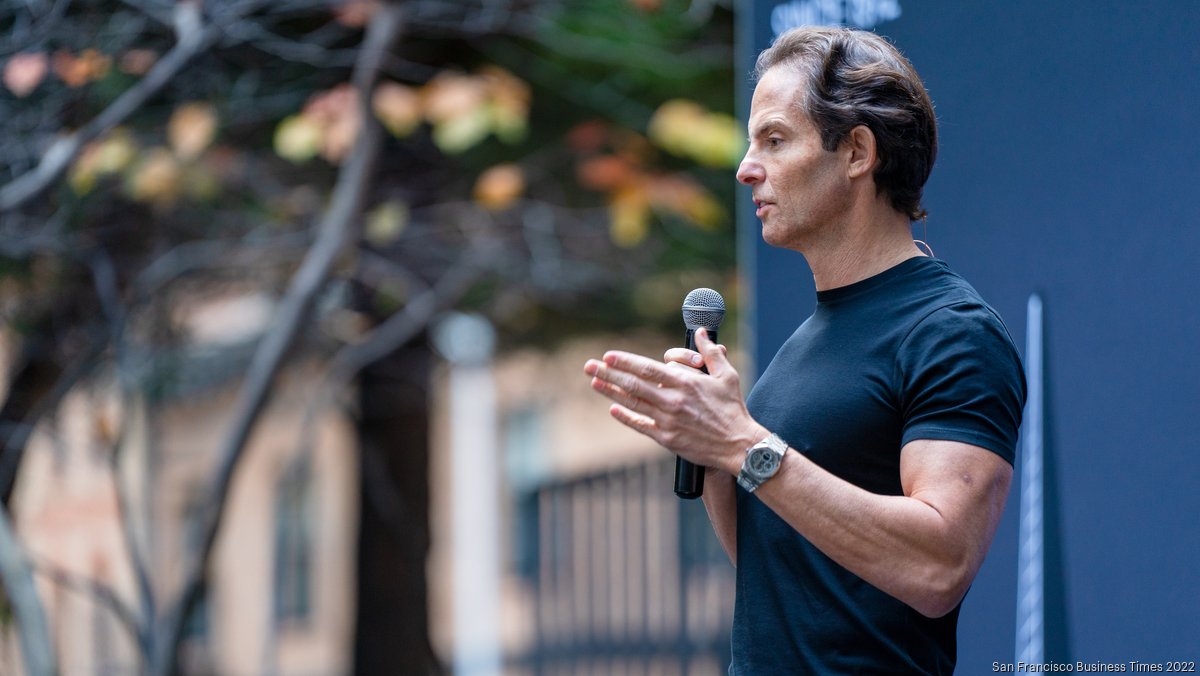 Founder and Chairman of Shvo Michael Shvo speaks during the ground breaking ceremony at Transamerica Pyramid in Dowtown San Francisco on Tuesday, Dec. 6, 2022.
Adam Pardee
Though his reputation often precedes him, New York real estate heavyweight Michael Shvo remains somewhat of an enigma to many.
The luxury broker-turned-developer has been labeled as a brash deal-maker; the bad boy of real estate who has run afoul of the law on at least one occasion; a real estate mogul with an ego to match his success. Perhaps those labels are part of his allure — after all, you don't get to the very top without occasionally showing your teeth.
But Shvo identifies more with the labels he's received beyond the headlines: A dedicated father, husband and a friend who keeps his circle tight and his life simple. An immigrant who arrived in the United States with $3,000 in his pocket and has built an empire. And a leader who knows what he wants and expects excellence — especially from himself.
In recent years, Shvo has picked up yet another label: The man making a $1 billion bet on San Francisco at a time when the city needs it most.
He purchased one of its most prominent landmarks, the Transamerica Pyramid, for $650 million at the height of the Covid-19 pandemic in 2020 and has unveiled a $400 million plan to transform it into a world-class headquarters building and public gathering space that will draw San Franciscans and tourists alike into the city's ailing downtown.
Over the past 50 years, the pyramid has had to overcome hostile public opinion before reaching icon status. It is a struggle that Shvo knows how to appreciate.
"The pyramid is a symbol of strife and perseverance for San Francisco," Shvo said. "There are a lot of similarities between my personal life and the building.
I sat down with Shvo, 50, to get to know the man behind the labels.
You grew up in Israel but spent a few years in the U.S. as a child before immigrating permanently. What were your first impressions? I came to the United States in 1978, as a kid. Where I grew up in Israel, we lived in a house where there was no running water, no electricity. We had generators for electricity, and they would bring water once a week.
Coming to New York from that — first we came to the East Coast and then Palo Alto on the West Coast, because my parents had a two-year sabbatical at Yale and Stanford — to see the big buildings, the Saks Fifth Avenue stores and the big windows, for a kid from Israel that was all kind of fascinating. I have selective memories of certain moments in time there.
The highlight was always when my parents would take us on a weekend trip to San Francisco.
Your parents were chemistry professors and wanted you to become a doctor. How did you get into real estate? By sheer coincidence, if you believe in coincidences. I moved to the States in 1995 with $3,000 in my pocket. I ran yellow cabs from a diner and I've managed a cigar bar.
At the time, the leasing agent in my building, who was an older lady, said to me: "You should be a real estate broker. Here's the number of a guy who is managing an office." I knew nothing about real estate.
At Douglas Elliman, I became a real estate agent, and the top residential broker in the country. I decided to leave that in the early 2000s and start a real estate marketing firm for new developments. We would partner with developers and come up with ideas for buildings.
What do you consider to be your biggest contribution to the industry? In the early 2000s, probably one of my largest contributions to the residential real estate market was that I invented the marriage of fashion and real estate. I brought Giorgio Armani to design the first residential building in the world that was designed by a fashion designer, which was 20 Pine St. in New York. That changed the industry as far as branded residences.
What drives your work? I wake up in the morning and want to elevate super prime real estate — that's really my goal, to elevate everything from the design, the service, to the tenant experience. We want our tenants to love us. That's it. As a Shvo employee, if you're running a building, if you're cleaning in the building, if you're the security in the building, if you're the doorman or concierge, you want the tenants to love us, because we go through extensive efforts to elevate the experience of everybody.
Is that the formula to your success? It's a win-win formula — a lot of people think that if you invest more money, that means you're going to end up making less money. My view of real estate is that this is not a zero sum game. And these ideas are not mutually exclusive.
So if you give the tenants an amazing product, an amazing experience, they will pay more in return, you'll get a better return. Particularly now, after Covid-19 we see a flight to quality. We stay as far away as we can from commodity buildings because I don't know how to sell commodities.
What aspect of the real estate industry do you like the most? What real estate makes you feel. You're sitting in your home or in your office, the park, you're reading — your environment affects how you feel. People like going to the ocean, or on vacation, because it makes you feel good.
So the idea is that real estate, or the design or the environment that surrounds us, is something that directly affects how somebody feels and how they work, how they learn, how they sleep.
Do you enjoy the negotiating, the deal-making? Deal-making is obviously an adrenaline rush type of experience. And because my focus is only on buying super prime real estate, we only bid and go after a very selective amount of deals. While last year we looked at 1,200 deals, we probably tried to buy five.
The first thing we look at is whether it's a show property, in a show location. It has to fall into the category of top 10 buildings in the top 10 cities. That's what we do. Of course it's exhilarating and exciting, the whole acquisition process, particularly the winning part.
For me, the destination here is probably more satisfying than the journey. But the journey is also part of what you have to go through. Most of the deals that we do are actually off market, it's just the nature of what we do because most of the buildings that we want to buy are never for sale. So part of the deal making for me is that I spend a lot of time with owners of buildings that are not on the market, and having conversations about buying those properties from them.
What was the biggest lesson that you learned about the real estate industry while working as a broker, and what advice would you give young people entering the industry now? The broker's primary job is to sell knowledge, not just data that buyers can get online. Therefore, the broker must always study the product and know the ins and outs better than anyone else so he or she can create true value for the customer.
I've noticed that you're always wearing black. What is that about? Probably six years ago, seven years ago, I decided that there are certain decisions that are just not that important. So instead of waking up in the morning and deciding what jacket to wear, what shoes to wear, how the colors match, I figured the easiest way is to wear all black.
Now, I just wear the same black T-shirt, I own 200 of the same shirts. It's the only thing I wear—you saw me in San Francisco, in the freezing cold, I was mostly wearing a T-shirt, because that's what I feel comfortable in.
It's the same for jeans: I own, probably 30 pairs and a few pairs of shoes. I also mostly eat the same thing every day, because it's one less decision to make.
In the business of what I do, I wake up in the morning to make decisions, investment decisions, design decisions, finance decisions, construction decisions. So decisions that don't have to be made because they don't really change anything in my life get eliminated. It's a great way to live life.
How would you describe your aesthetic? I don't think that I could describe my aesthetic. I mean, if you look at the architects that I choose to partner with— Norman Foster, probably one of the greatest architects ever, is a great partner. We're doing four buildings together right now. That's one side of the equation.
On the other side, I have Peter Marino who is very different, and a very close family friend. Peter is what they call a timeless modernist with a heavy focus on materiality. When you work with him you see materials that you've never seen in your life, because Peter has a constant input of materials that are being created for him.
What is something that the public would be surprised to learn about you? My life in general has been extremely public because of the high-profile buildings that we do. But outside of the office, I am an extremely private guy, which is not something that necessarily, you would expect. My preference instead of going to another party or an event is to sit at home and play the piano. That's something I enjoy tremendously.
So you're not a fan of schmoozing? At some point —more or less at the same time that I decided to wear black — I also made a decision to spend time with the people that I really care about. And I think that is something that is really important. Maybe because I just had two young kids and I figured I'd rather spend time with them. But it's important to spend time with the people you truly enjoy — both on a personal and business level. That's why I work with architects that are true friends. I want to surround myself, and I've done that, with people that I really like. I don't want to work with anybody I don't like anymore. I don't want people around that don't really care.
Here's a look at some of the other major properties Shvo has purchased:
Call it divine intervention, ruthless perseverance or simply fate. Michael Shvo closed on a $650 million bid to buy the Transamerica Pyramid in the midst of a global pandemic that wreaked havoc on San Francisco's real estate market because he believes that he was destined to be its steward.
He's even lost a close business partner over the matter, but Shvo admits that the iconic building is not one that he's willing to share. Sedar Bilgili — the chairman of Istanbul-based private equity real estate firm BLG Capital, one of the investors Shvo has worked with — sued Shvo for squeezing him out of the deal to buy Transamerica and another property in Chicago. The lawsuit was settled.
Shvo and the Transamerica Pyramid were born in 1972, less than a month apart. Shvo says that when he first laid eyes on the 48-story skyscraper as a child during a family trip to San Francisco, he was inspired to draw himself standing next to it. Late last year, the 1980s-era sketch from his childhood resurfaced.
"I didn't know it existed," said Shvo. "We found it while we were looking for pictures from our San Francisco trips. Since my mother does such a good job of cataloging everything, we managed to find the drawing I made in 1981, which is fascinating on so many different levels — me at the age of 8 or 9, drawing myself next to the pyramid. It symbolized the great American dream to me, at least as a kid."
Shvo has announced an ambitious $400 million renovation plan for his favorite San Francisco building, and for the first time has offered insight into how the high-profile deal got done.
How did the Transamerica deal come together? We've been very fortunate to be able to buy the pyramid against 44 other bidders, in what probably was the most competitive process that I've ever participated in. I was in Beverly Hills when I found out that the building was coming out for sale. I called Gerry Rohm, the broker, on a Friday. I couldn't come there on Saturday because I keep Shabbat. I said, "We're coming on Sunday to see the building." He told me no but we came anyway.
I looked at the building from the outside and told my team: "We have to buy this thing. This is an architectural masterpiece." Particularly when I saw the grounds — I saw this amazing icon but the grounds surrounding it were not really anything inspiring. The idea of owning the whole block and being able really to influence what happens in a full city block was something that I found extremely attractive. We ended up bidding on the building and traditionally you have two rounds of bids. This was six rounds and five months of interviews. In the end, two out of the three other remaining bidders asked us to partner with them, but we elected not to have a partner.
Are you ever interested in partnerships when it comes to your investments? No. We are the sole owner and operator of these buildings. I was on a call a while ago, and as I was being introduced, the other guy on the call said, "You don't have to introduce me to the Shvo. I know who they are. They're the Rolls-Royce of real estate." That was really a big compliment. And that is, I think, our reputation in the industry. That's why we don't really partner with other operators. We partner with equity partners, we have a lot of investors. Our partner is the German state insurance companies, the German state pension funds. We have a lot of big institutional partners out of Europe.
How did you ultimately close on the deal? We signed the contract, and then Covid hits. We go through a process where everybody thought I was really out of my mind. And everything that could happen for this deal not to happen, happens. Covid was like the overarching issue. The building department was closed, the lender walked away on us and wouldn't lend us the money, literally everything. Everybody said San Francisco is dead. The building was shut down. I mean, every single thing that could have gone wrong has gone wrong.
We ended up getting another lender but it was tough. I remember pacing back and forth in my office and those were very stressful times. The sellers, Transamerica and Aegon, were very accommodating, because they knew that it was a very difficult time for anybody to do a deal.
Are you eyeing any other properties in the city? We weren't looking particularly in San Francisco, but it is a top city for us. You don't know how hard it is to buy something after the pyramid! And it's a great time for real estate in San Francisco, but it has to be something really, really special for us to buy another property. We've looked — we are always on the lookout. There are some other spectacular buildings in San Francisco, but nothing like the pyramid.