Inman launches immersive new video platform, Inman Access, for real estate professionals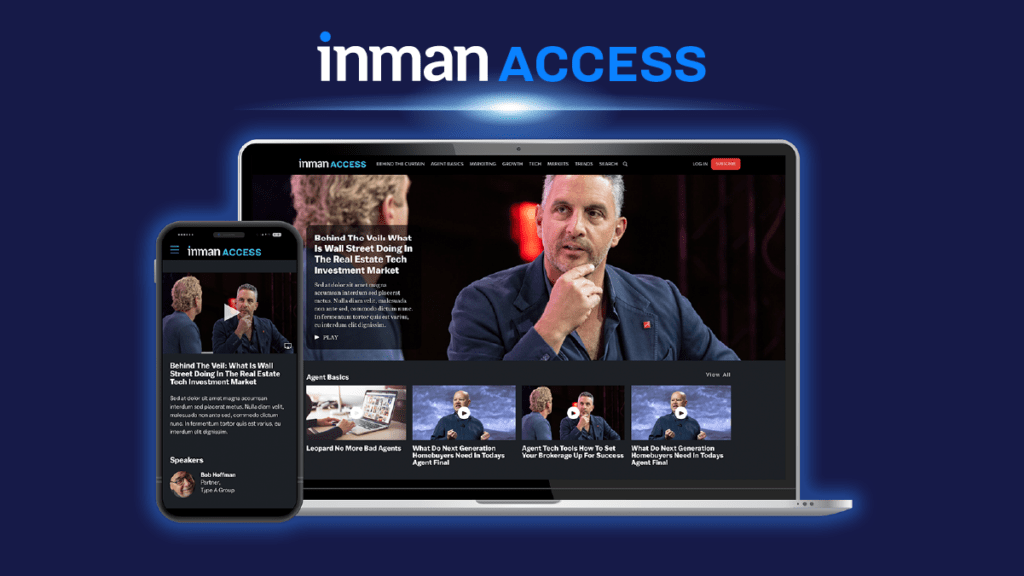 Inman Access, a new immersive online experience that offers real estate professionals the opportunity to learn from the industry's best practitioners and experts, launches today.
Designed exclusively for the real estate industry, Inman Access offers expert-led sessions to help agents and brokers expand their skills in marketing, agent basics and technology, as well as features on the latest trends and a look inside up-to-the-minute news.
Sessions are available anytime, anywhere on desktop and mobile devices.
"Our top priority is to provide real estate professionals the training, tools and education required to meet the moment and navigate current market conditions.
Inman Chief Executive Officer Emily Paquette said. "Inman Access is designed to do exactly that, delivering an elevated and immersive learning experience around key topics with classes led by the industry's most sought-after instructors and practitioners."
Featured instructors include Glennda Baker, Jon Cheplak, Mike DelPrete, Brad Inman, Gary Keller, Ryan Serhant, Verl Workman and Giselle Ugarte, among many others
Inman Access delivers skills-focused advice for the real estate professional across these topics.
New content will be added weekly.
"It's a game-changer for real estate professionals," Paquette added. "And we're excited to deliver it to the world."
Learn more about and subscribe to Inman Access here.
Email Inman.
Simply enter the email address you used to create your account and click "Reset Password". You will receive additional instructions via email.
Coalesce's Select Membership is no longer active. Sign up for Individual Select membership today.
Please update your billing information to reactivate your membership.
You will be charged . Your subscription will automatically renew for on . For more details on our payment terms and how to cancel, click here.