Michael Lerner, 'Barton Fink' Oscar nominee, dies at 81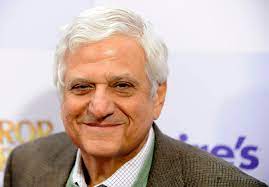 Michael Lerner, the Brooklyn-born character actor who played a myriad of imposing figures in his 60 years in the business, including monologuing movie mogul Jack Lipnick in "Barton Fink," the crooked club owner Bugsy Calhoun in "Harlem Nights" and an angry publishing executive in "Elf" has died. He was 81.
His nephew, actor Sam Lerner, announced his death in an Instagram post Sunday. Sam Lerner wrote that his uncle died Saturday but did not provide further details. Neither his nor Michael Lerner's representatives immediately responded to requests for further comment.
"He was the coolest, most confident, talented guy," Sam Lerner wrote. "Everyone that knows him knows how insane he was — in the best way…we're all lucky we can continue to watch his work for the rest of time. RIP Michael, enjoy your unlimited Cuban cigars, comfy chairs, and endless movie marathon."
Born in 1941 to Romanian-Jewish parents and raised in Brooklyn's Red Hook neighborhood, Michael Lerner began acting locally as a teen and into his days at Brooklyn College, where he got the chance to play Willie Loman in "Death of a Salesman.
His ambitions to pursue acting professionally crystalized when he received a Fulbright Scholarship and chose to study theater at the London Academy of Music and Dramatic Arts, where he lived in an apartment with Yoko Ono for a time, appearing in her short film "Smile" alongside Paul McCartney. His brother, Ken Lerner, also became an actor.
Lerner moved to Los Angeles in 1969, at the urging of an agent who saw his work at the American Conservatory Theatre in San Francisco. He started getting cast in television shows, including "M(asterisk)A(asterisk)S(asterisk)H," "The Brady Bunch" and "The Rockford Files," making his film debut in Paul Mazursky's "Alex in Wonderland," alongside Charlotte Rampling. But he considered his first significant role to be in the television movie "Ruby and Oswald" (he played Jack Ruby) with Brian Dennehy.
In 1981, he was cast in Bob Rafelson's remake of "The Postman Always Rings Twice," alongside Jack Nicholson, who he called one of the most generous actors he'd ever worked with, and Jessica Lange. A longtime cigar aficionado, Lerner felt out of his depths when he was asked to smoke a cigarette in a scene with Nicholson in a jail. Lerner said he held the cigarette with both hands.
He felt more comfortable playing cigar-smoking journalist and politician Pierre Salinger in "Missiles of October," for which Jackie Kennedy once told him that he'd "out Pierre'd Pierre."
Lerner also loved working with John Sayles on "Eight Men Out," in which he played Arnold Rothstein, the crime boss who conspired to fix the 1919 World Series.
"Most of the time I don't rehearse, but I do a lot of preparation. Especially for a biographical character or one of the studio heads," he said in 2016. "I did a lot of research for Barton Fink and looked into Louis B. Mayer and all the moguls in Hollywood."
Joel and Ethan Coen's "Barton Fink," released in 1991, is the film Lerner is most remembered for.
"I had auditioned for Joel and Ethan before, for Miller's Crossing. So I walked into the room, as the character, and I don't say hello to anybody. And I sit down behind my desk and do this big speech: 'Bart! Bart! So great to see you,'" Lerner said in 2016. "I did the monologue the way I wanted to do it and I just walked out of the room and that was it. And Joel and Ethan were just sitting in a corner just laughing and laughing and that was it."
Lerner, who drew inspiration from Preston Sturges movies, said the Coens didn't give him much acting direction and "were a little nervous that I was talking so fast" but that they let him do what he wanted.
"Those are good parts but not great acting roles," Lerner said.
And he never felt cheated by being known as a "character actor" rather than a leading man. In 1999, in an interview with Cigar Aficionado, he said, simply, "Every role is a character role.